How to Choose a Good Removals Company in Cambridge
Moving a house can be a highly stressful time, and there is always a lot to organize. Using a removals company can help relieve the stress, but there are so many companies out there, how do you know which one to pick? This simple guide will help you through the questions you need to ask.
Firstly, do you need a removals company? If you are happy to move house without a removals company, it can save you a lot of money, but do not underestimate the amount of mental and physical organization it takes to move your belongings into your new home. It is one thing packing boxes, but it quite another having to haul them up and down stairs, particularly when you are on a time constraint. Plus, if you are moving a long distance you will be very tired once you arrive at your new home, and unloading boxes will be the last thing on your mind. If you have a lot of valuable possessions, such as antique furniture or fragile belongings, using a removals company can help take the pressure off.
Shop Around. As soon as you have your moving date, ring around for quotes from a number of companies. Do not automatically choose the cheapest company – be sure to take note of what you get for the price and what services are included. Some removal companies will include packing for extra ease and convenience. Some companies will be able to give you an instant quote online, but this may only be an indication.
Other companies may want to see how many belongings you have to move before they give a quote. Make sure you have confirmed the final quote before you book anything.
Negotiate. If possible, try to move house on a weekday rather than a weekend as prices may be cheaper. Be aware that peak periods like school holidays may be more expensive so there may not be discounts available.
Plan Ahead. Give yourself plenty of time to book a home removals company, as many will be booked up weeks in advance (particularly the best companies). Once you have chosen a company, provide them with as much detail as possible e.g. how many flights of stairs, if any furniture will need to be taken apart.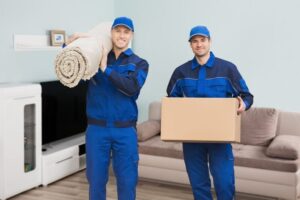 Get Organized. If you are doing the packing yourself, make sure you have enough boxes and equipment as you need. Pack away things that you rarely use at the earliest opportunity. Label boxes by what room they will need to go into in the new house.
Get Insured. Most professional removals companies will include insurance for while your belongings are in transit – make sure this is the case.
Contact your current home and contents insurance company to check whether your belongings are covered during the move.
Be Safe. Whichever company you go for, make sure they are a member of either The British Association of Removers or The National Guild of Removers and Storers, who both set standards by which members must abide by. A good idea is to ask family and friends for personal recommendations. Above all, make sure you are completely happy with the company you choose, after all they will be handling your most previous possessions.
For more information you can call us 01733 350955  or  07950 776867  or email us houseremovals2013@gmail.com or visit our website https://a2z-removals.co.uk/.