What to Consider When Hiring a Removal Company in Cambridge
Moving house or relocation of a business has been said to be one of the most stressful experiences that any person will ever have to endure. That is why it is so important to research all the available removal companies in your area to ensure you are getting the best possible service.
Choosing the right removal company can make an amazing amount of difference to the whole process of relocation. It is vitally important to feel completely confident that you have chosen the best possible removal company in your area for the task that you need them for.
Always meet face to face with the representative of the company, never accept quotations over the phone. Neither you nor the removal company can get a clear and precise idea of your needs and requirements. You will also get a good idea of whether the company is trustworthy and know who you are dealing with. It is always handy to be able to put a face to a name when you have to contact the company in the weeks to come, running up to your actual removal.

It is imperative that you see all necessary insurance documents that the company has. Request copies if you feel you need them, no company should refuse such a service. Goods in transit is the most important, public liability is also important.
Your quotation should be in writing, with who you can contact if you have any queries, clearly stated on it. Your removal date will never be set in stone, all reputable removal companies will be flexible, their business is to make themselves available at fairly short notice. Always make it clear that you will give them as much notice of your move as humanly possible but never accept penalties for short notice. Remember to ask about waiting time charges. This can be a nasty shock to find out that you are to be charged by the hour for every hour you are waiting for your keys to be handed over. Most companies will charge this only after a specific amount of time.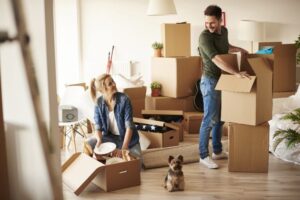 Enquire about any additional services that are available to you. Some companies offer a complete packing and unpacking service, this is really handy if you are working all hours, unable to pack for yourself or just don't fancy doing it. Most companies will be able to provide you with good quality packing materials if you prefer to pack your valuables yourself. I would seriously doubt the credentials of any company unable to do this for you.
Remember to ask for a range of sizes of boxes, large to small, paper and bubble wrap for your more delicate items. Don't pack boxes too full, even strong boxes have a breaking point and you don't want to risk your family heirlooms spilling all over the floor during your move. Remember to clearly label all your boxes then you can rest assured that the boxes will end up in the correct room at your new house.
A label on any doors at the new house will ensure you will not have to move any boxes after the removal team have left. Wardrobe cartons can also be obtained from most efficient companies. This is a real helpful item to have as it reduces the need for packing then unpacking and ironing all your clothes they can simply be hung on the rail in the carton. If you have additional clothes, a rail, usually improvised from a van packing tie, can be rigged up in the van to again minimize the need to pack.
To keep your removal team happy and hardworking keep your kettle fairly handy! Even though the men are obviously being paid for their work, it is hard work and it is always nice to feel appreciated. A cup of tea or coffee and a biscuit will nearly always ensure that you can request that your sofa is tried in all the possible positions in your lounge.
On completion, your removal company should ensure you are completely satisfied and provide you with a receipt for payment.
Choosing the right company for your removal or relocation can make all the difference. A stressful experience made that little bit more bearable by simply putting a little effort into ensuring you have chosen someone you trust to help you relocate.
For more information you can call us 01733 350955  or  07950 776867  or email us houseremovals2013@gmail.com or visit our website https://a2z-removals.co.uk/.