How to Save Money on Home Removals in Cambridge
Moving home can be expensive and many of us will be looking for ways in which we can reduce the costs a little.
You may have certain options to do so when considering your furniture mover.
Here are a few ideas in that domain that might prove to be useful.
1. Don't move 'old tat'.
If we are honest with ourselves, we probably all have an awful lot of old rubbish hanging around our houses in places like garages and attics.
Much of it may never be used or even looked at again, apart from when you are moving home! Remember, on the whole, the less you move the lower your costs may be. So, get it cleared out and sold off.
2. Shop around for moving company quotations.
Don't necessarily assume that the cheapest is going to be the best because you will want to make sure that your precious personal possessions are being handled by experts not amateurs. Even so, prices can vary and shopping around is a good idea.
3. Where possible, plan and book your move well in advance.
If you are trying to arrange things at the last moment, the chances are your choice of moving company will be restricted as will your ability to shop around for the most attractive deals.
4. Do your own packing – but be careful here!
If you do your own packing, then it's pretty much a no-brainer that it will prove to be cheaper than asking professionals to do it for you.
However, caution is highly advisable! Poorly-packed items are likely to arrive damaged however carefully and considerately your removals specialist has been in their handling of the items concerned. So, know your limitations and if you have any doubts, spend money on professional packing!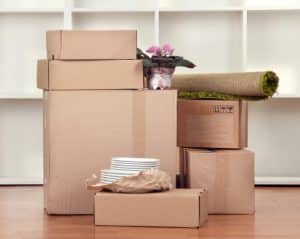 5. Check out any special deals.
Some parts of the year and sometimes even parts of an individual week, are known to be relatively quiet in professional removals circles.
If you can be very flexible on your removal date and discuss your requirements with a local expert removal company, you may find that they'll be able to offer you a particularly attractive deal if you are able to move at a time and date that's convenient to them.
It's worth asking and you have nothing to lose.
6. Ask your removals company for help with packing materials.
If you are doing your own packing, going out and purchasing lots of new boxes and related materials may prove to be very expensive.
You may find that your selected moving company might be able to supply you with certain materials that may have been used but which are still in excellent condition. Some may provide them entirely free whilst others may make only a notional charge.
It's only going to be a lot more cost-effective than going out and buying your own new ones from scratch!
As a final thought, don't forget to ask your moving company for their advice on any other options you might have for reducing your costs. Most will be only too well aware how much financial pressure is placed upon families and individuals these days and will do whatever they can to try and identify other opportunities for you to save money.
For more information you can call us 01733 350955  or  07950 776867  or email us houseremovals2013@gmail.com or visit our website https://a2z-removals.co.uk/.